Areas of Surgery
Breast Reshaping
Q: What are the features of a normal/attractive breast?
The perception of a beautiful/attractive may vary from person to person, varying with sex race and culture; however, the features that appear beautiful/attractive are actually an indicator of healthy status of the person, especially reproductive health (fertility). That is why nature has made us see them as attractive.
A Plastic surgeon evaluates these same features in a lady so as to restore by surgery the features that are missing.
These features include
Symmetry- Though the left breast is usually larger than the left, breasts look best when they are symmetrical.
Size- This is highly variable, but most people find a cup B or C as appealing.
Nipples- they lie above the level of the breast fold and point outwards.

Q: What is the cause of an awkward/deformed breast?
Unattractive/Deformed breasts in an adult lady can occur as a result of
Genetic (inherent) causes, where the initial development after puberty is at fault
After pregnancy and breast feeding.
after Menopause
due to previous infection, surgery (for cancer) or injury/trauma such as burns
What are the problems due to deformed breasts?
Problems are both psychological and physical.
Psychological
Physical problems are usually due to large breasts, commonly seen in two situations
In young girls in late teenage or early twenties, as a developmental problem
After 2 or more pregnancies, the breast enlargement for purpose of feeding the child fails to reverse completely even after feeding is stopped.
In both instances, the weight causes pain in the neck, shoulders and bra strap ulcers.
Q: How do I check if my breasts can be made more attractive?
Ask yourself these questions
Is your Breast Volume and Size adequate?
Place a pencil under the breast. If the pencil holds, some form of breast lifting procedure /volume increase will help.
Do you have neck/Shoulder pain due the weight of the breasts?
Are Stretch marks present from alteration in the breast size?

Q: How much improvement (what corrections) is possible with surgery?
Breast enlargement is usually performed with implants. Chest wall size and amount of loose skin in which to place the implant are the limiting features. Usually 2 size increase in the cup is possible.
Breast Reduction produces a very pleasing result, allowing the person to be more active in daily work. Cosmetically, the improved shape & position is usually very pleasing, making the surgery scars insignificant compared to the benefits. Usually, one operation is adequate for many years.
Q: What issues are to be considered in an implant surgery?
Implant or not?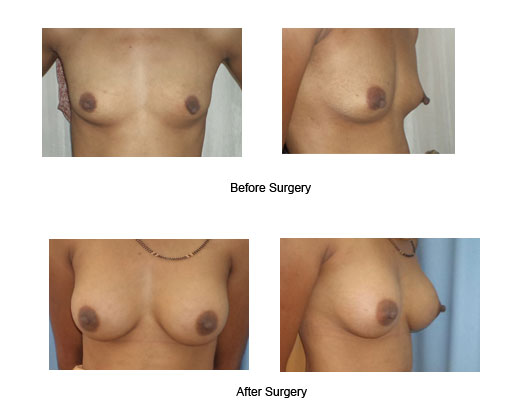 Despite all the controversy surrounding breast implants, the benefit seen after surgery in a lady with a small chest is seen as a vast change in her self-esteem. The result is very gratifying to both the surgeon and the patient.
In a very small minority of cases, breasts may be made prominent without implants.
Which implant? Saline or Silicone...
Silicone implants were briefly removed from the market few years ago due to possible association with cancer and connective tissue disease. The genuine practical problem was the interference with screening mammography. However, safety of silicone implants has been proved beyond doubt at present.
Though Saline implants do not give as natural a texture as Silicone implants, the appearance can still be excellent and trouble-free.
The ultimate outcome of the implant surgery has to do more with the healing around the implant area than the implant itself.
Which incision?
Three common incisions are used to place the implant; in the armpit, around the nipple or below the breast itself. The last option is the one used most frequently.
It is best if the surgeon explains the options to you after an examination.
Above or below the muscle?
For many years, breast implants have been routinely placed just deep to the breast tissue, just above the muscle called Pectoralis Major.
Some surgeon have found it better to keep the implants beneath the muscle to lessen the scar formation; however such placement may seem higher on the chest wall initially, with time they will stretch out and drop down.
Q: What are the benefits with a reduction surgery?
Some of the most satisfied patients are those who have had breast reduction. Not only is the size reduced so that the person can play sports and be more active, but the nipple is elevated to a more pleasing position and the breast is repositioned higher on the chest. Usually the overall appearance of the breast is very pleasing and these are very happy patients.

Q: What issues are considered before a Breast tightening (Mastopexy) surgery?
After a discussion and examination, your surgeon will help if you feel breast lifting is important. If the breasts are truly sagging, they cannot be corrected by implants alone.

Some information about the procedure
Duration: Implant surgery usually needs about 2 hours, breast lifts or reductions are fairly extensive procedures requiring 3-4 hours of surgery to get the breast to still match, look natural, and have fine scars.
Anaesthesia type-General anaesthesia
Period of hospitalization-
Overnight stay is needed for breast implant surgery after general anaesthesia.
Breast reduction or Lifting surgery may need placement of temporary tubes, discharge is usually given in 2-3days after their removal.
Q: How painful is the procedure?
Pain at time of surgery is nil, as anaesthesia is used. After the surgery, a pre decided combination of intravenous & oral medications ensure that pain is never a problem. Once the patient feels confident with the existing soreness & stiffness after surgery (usually in a day or so), is able to move around indoors, patient is send home with medications.
Q: What can I expect immediately after the operation?
The chest area will be supported with dressings and a sports bra that needs to be used for 6 weeks. Once recovery from anaesthesia is complete, minimal stiffness/soreness of the chest may be felt, though all personal activity can be started
Recovery:
Back to work: 1-2 weeks, depending on the extent of surgery
Strenuous activity: 3-4 weeks
Swelling & bruising: (if any) 2-3months
Q: What are the possible side-effects and complication?
Surgical Risk
possible complications of general anesthesia, as well as nausea, vomiting and fever
infection
hematoma (collection of blood that may cause swelling, pain and bruising, perhaps requiring surgical draining)
hemorrhage (abnormal bleeding)
thrombosis (abnormal clotting)
Skin necrosis--skin tissue death resulting from insufficient blood flow to the skin. The chance of skin necrosis may be increased by radiation treatments, cortisone-like drugs, an implant too large for the available space, or smoking.
Prominent scars
Implant Risks
capsular contracture (hardening of the breast due to scar tissue)
leak or rupture--silicone implants may leak or rupture slowly; saline implants may rupture suddenly and deflate, usually requiring immediate removal or replacement
temporary or permanent change or loss of sensation in the nipple or breast tissue
formation of calcium deposits in surrounding tissue, possibly causing pain and hardening
shifting from the original placement, giving the breast an unnatural look
interference with mammography readings, possibly delaying breast cancer detection by "hiding" a suspicious lesion. Also, it may be difficult to distinguish calcium deposits formed in the scar tissue from a tumor when interpreting the mammogram. When making an appointment for a mammogram, the woman should tell the scheduler she has implants to make sure qualified personnel are on-site. At the time of the mammogram she should also remind the technician she has implants before the procedure is done, so the technician can use special techniques to obtain the best mammogram. Usually a MRI scan is best for breast cancer screening with an implant.
Q: In case pregnancy occurs after a breast surgery, will it interfere with breast feeding?
With Breast tightening and enlargement (implant) procedures, there milk secreting system is not interfered with-hence breast feeding of the child can proceed smoothly. After breast reduction surgery, there will be some interference with the secretary system and lactation. However, with the supportive care for infants available presently, this can be easily taken care of.
Q: What should the long term outlook be after the surgery?
Results after surgery to improve shape are permanent. In most cases, the initial appearance after surgery keeps improving over 12-18months till the internal scars have reasonably settled. So long as the patient's general health & fitness is well maintained, results easily last more than a decade.
Q: Are there any other forms of treatment?
Recently some other treatment modalities have been used world over with variable success to improve breast appearance. These include
liposuction-for mild to moderate breast reduction
fat injection-to increase size
breast lift with barbed sutures- to correct sagging
However, these procedures are still in an early stage of development; hence they are not yet recommended for use by all till they are confirmed as reliable.
Q: Can the problem reccur after surgery?
Yes, rarely this may happen.
Sub-muscular breast implant may shift in position
With progressive age, loss of normal breast tissue next to an implant may result loss of fullness.
This can be corrected by replacing with a larger implant. Correction of sagging breasts may also be lost with increasing age, along with loss of generalized skin sagging on face or elsewhere.