Areas of Surgery
Face
Relevance of Beauty & Face
Q: How is beauty of the face evaluated?
What constitutes a beautiful face? Though this is a difficult question, the parameters/features that constitute beauty have been identified by researchers through surveys and questionnaires over many years and are now well accepted. These parameters are usually found in a person with the best of health, male or female-this is the reason these features are sought after and admired.
Evaluation of face beauty involves the following-relax, restore, reposition, resurface
Surface
Contour
Symmetry and position - at rest and with movement of face.
Proportions
Q: What are the causes for loss of beauty/pleasantness of face?
Birth problems - sunken nose, wide eyes, or cleft lips are few examples
Infections - resulting in minor problems such as skin darkening, scars or severe such as destruction/loss of parts such as lips or nose
Accidents/Trauma - scars, tissue loss or loss of Symmetry
Age - this group is increasing with passing years to improved overall health and longer life. Multiple changes seen with advancing age make the face look dull; correction through simple procedure can at times make person a few years or even a decade younger.
Fine wrinkles-corrected well by Botox injections
Fine scars and sun damage to face- resurfacing by dermabrasion, chemical peels or by laser.
Sagging of tissues - this is corrected by lifting up the loose tissue by an invasive procedure, with or without removal of excess tissue.
Sunken appearance - corrected by restoring the volume of the area by Fat OR Filler Injections.
Miscellaneous Causes:
Q: What are different types of procedures to improve the face appearance?
Based on the Outcome and the Procedure Risk involved, common beauty enhancing procedures are of Four Types.
A. Non - Invasive: or Spa Treatments are therapeutic and relaxing, designed primarily to reduce blemishes and revitalize and protect the skin. The results are temporary. These techniques and treatments-such as cellulite wraps, facials, and deep tissue massages-are used by people of all ages, from younger people who want to improve skin tone to older adults looking to relieve muscle tension or back pain.
B. Minimally Invasive: Minimally invasive treatments even out our skin tone, increase cell turnover, promote cell growth, remove unsightly veins or abnormal hair growth, and stimulate collagen production to help the skin retain its softness and reduce the appearance of lines and wrinkles.
Common procedures include light-based treatments to remove sunspots (e.g., Intense Pulsed Light, or IPL), micro-dermabrasion, light skin peels, spider vein treatment, hair removal, and treatment of leg veins. These treatments-usually undertaken in a series-are not without risk and should be performed by a trained provider overseen by a plastic surgeon.
Medical skin care can produce pleasing outcomes for patients by reducing the effects of sun damage and discolorations and improving skin texture.
C. Moderately invasive: Moderately invasive procedures, while nonsurgical, are neither risk-free nor a substitute for plastic surgery. This level includes injection therapy with Botox®, soft tissue fillers, laser skin resurfacing, deep chemical peels, nonsurgical skin tightening, and cellulite treatments.
The longevity of these treatments varies-from a few months to a few years. For a time, they reduce the appearance of lines and creases, plump thin lips, enhance shallow contours, and soften wrinkles. But we don't achieve the same results as we would with surgery or surgery combined with moderately invasive procedures, which produce more noticeable and longer lasting results.
D. Surgical or invasive procedures: These reposition our tissue and restore lost volume to rejuvenate our faces.
Facial rejuvenation - eyelid surgery, forehead lift, facelift, and neck lift
Facial implants
Nose and Ear reshaping surgery-Rhinoplasty & Otoplasty
Hair transplantation
Results of these procedures easily last a decade or more (soft tissue procedures) OR are practically permanent (implant surgery or Bone reshaping procedures). The procedure risks are significant as well; hence these should be done by physicians with adequate training.

Deep Nasolabial fold due to Sagging of the Cheek corrected by BARBED WIRES
Q: What are the popular Cosmetic Procedures?
Across all age groups, there are few procedures that have been popular over the years.
Nose reshaping - Rhinoplasty
Ear reshaping - Otoplasty
Liposuction for fat removal
Laser hair Removal
Microdermabrasion
Correction of scars
Mole/Naevus Removal
Other popular procedures, but usually done in the 3rd or 4th decade onwards include:
Minimally Invasive procedures
Light skin peels
Light based treatment such as IPL
Moderately invasive procedures include
Skin resurfacing by Laser or Dermabrasion
Injectable fillers
Botox
Chemical Peel
Surgical procedures include
Eyelid surgery
Surgery to correct Sagging tissue- Forehead Lift, Brow Lift, Face Lift, Neck Lift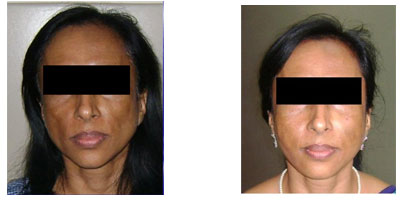 Age related Sunken Cheeks restored to their youthful look by FAT INJECTION
Q: What is the role of a Plastic Surgeon in providing Cosmetic Medical Care?
Plastic surgeons work with patients at all stages of life, evaluating health, medical, psychological history, and body type to provide comprehensive advice according to their personal cosmetic medicine goals. They help explain the specific results a procedure can and cannot deliver and its associated risks; how to choose the right course of action depending on our age, needs, and wishes; and what we can expect to look like after the procedure.
Unlike others who may be trained in only a few cosmetic procedures, plastic surgeons are educated in the full spectrum of cosmetic surgical and non-surgical care. They hone their skills and techniques through one of the lengthiest and most comprehensive training programs in all of medicine.
Besides delivering great results for patients through comprehensive cosmetic procedures, our focus as plastic surgeons is on patient safety. We believe that patients deserve the highest quality of care and safety, which is delivered in our accredited facilities.
Plastic surgeons are actively involved in research to develop new techniques and improve existing procedures that will deliver scientifically proven outcomes for patients undergoing cosmetic or reconstructive procedures. Plastic surgeons are directing cutting-edge advances in the field, based on research using stem cells, biomaterials, and biomechanical engineering.
Q: How do I decide which is the best procedure to enhance my Beauty?
At times, the procedure needed may be very obvious -especially when the problem needs correction by a minimally or moderately invasive procedure. If the problem at hand needs an invasive/Surgical procedure, it is essential to seek opinion from a Qualified Plastic Surgeon who does the procedure regularly. Such a Specialist alone, who is trained in the full spectrum of Cosmetic Procedures, who can evaluate your medical and psychological health and provide comprehensive advice as per your individual cosmetic goals, is the right person to give an opinion on the means/therapy/intervention in Cosmetic Care.
Q: How do I decide if a Plastic Surgeon is suitably trained to handle Cosmetic Surgery?
In India, a trained Plastic Surgeon who is familiar with the complete spectrum of Cosmetic Surgical and Non-Surgical procedures holds the qualification of M.Ch. or DNB in Plastic Surgery as approved by the Medical Council of India (MCI). They are likely to be members of professional bodies such as APSI (Association of Plastic Surgeons of India). Similar identifying features in the UK are the qualification of FRCS (Plastic Surgery) and membership of BAPS (British Association of Plastic Surgeons). In the US, it the person is a Board Certified Specialist (plastic Surgery Board) and the American Society of Plastic Surgeons or American Society of Aesthetic Plastic Surgery.