Areas of Surgery
Paediatric Surgery
Children have some unique problems that need delicate techniques of Reconstructive surgery to correct them, to ensure long lasting results while preserving growth potential to the maximum. Birth problems/deformity are unique to children; when involving any externally visible body part they are greatly benefited by these techniques-eapecially problems of limbs and face
Case No. 1 - CLEFT LIP (HARE LIP DEFORMITY) is a common birth defect that steals the beauty from a child's smile and joy from the mother's heart. Even when severe, delicate correction can restore the 'smile' and the 'joy', provided it is done at the right time.
Unilateral (Single Side) deformity seen in the picture above should be corrected at about 4 months of age.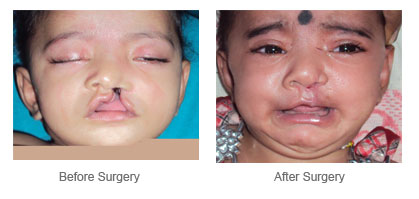 Case No. 2 - Bilateral Cleft Lip- (Deformity on both sides), as seen in the pictures below, is usually associated with additional deformity of the palate region.
Once the lip problem is corrected, the gap(cleft) in the palate (roof of the oral cavity)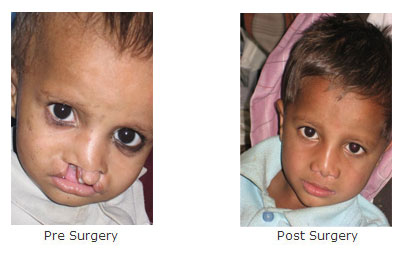 Needs to be corrected at 9months age to prevent problems in speech of the child later on
Case no. 3 - Burn deformity of fingers in a child
This case illustrated use of reconstructive Surgery principles, needed on three accounts -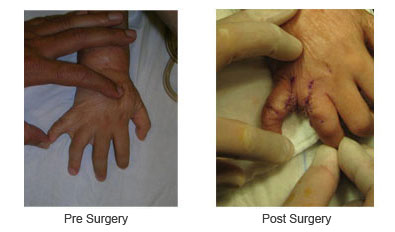 One-problem involving HAND
Two-problem in a CHILD, visible externally
Three-problem arising from a burn injury.
Occationally, cure for the problem can be attempted as in the example above.