Areas of Surgery
Tummy Tuck
Q: What is Tummy-Tuck surgery (Abdominoplasty)?
This is a cosmetic surgery procedure designed to give a pleasing shape/appearance to the body/trunk region by removing (tucking) excess skin or fat and by tightening the muscles of the abdominal wall. This is a major surgical procedure and can dramatically reduce the appearance of a protruding abdomen. However, depending on the severity of the initial problem and the procedure needed, the procedure will leave a scar that may extent from hip to hip.
Q: Who is a suitable candidate for this procedure?
The best candidates for this procedure are men & women who are bothered by a large fat deposit or loose abdominal skin that won't respond to diet or exercise. Such a person may be either
Normal weight and otherwise healthy.
Older person with mild to moderate obesity usually have loss of skin elasticity.
Ladies usually after a second pregnancy have had irreversible stretching of abdominal muscles & skin which will not return to normal
The surgery needs to be postponed if
Weight loss is planned in the future.
Person is planning a future pregnancy.
In the right candidate, the improvement leads to enhanced appearance & self-confidence.
Most often, people with normal OR near normal body weight have some (mild to moderate) excess fat in the tummy area (pot belly). This is the problematic fat that 'refuses to go' even with the best of diet control and exercise efforts. This fat deposition is decided by the person's genetic pattern, hence it does not respond to diet and exercise. Usually most people with this small problematic fat get fed up with after unsuccessful attempts at exercise - diet control and give up.
This is the best situation where surgery can help tilt the balance in the person's favour-by removing the 'stubborn' fat in one go!
The improved body shape achieved by this procedure in one stroke helps usually motivates the person to continue regular diet control and exercise and maintain both good looks and good health.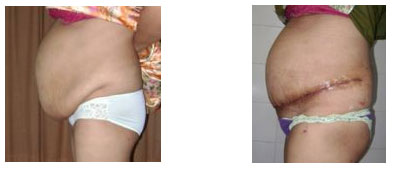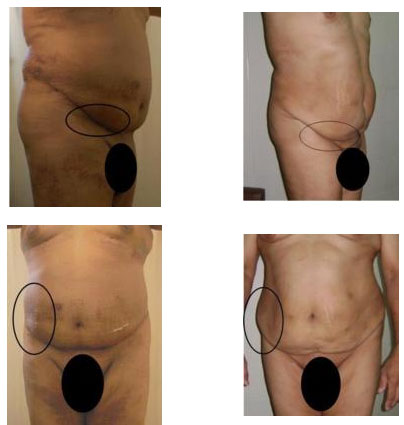 Loose skin and weak (stretched out) muscles in a 40yr lady with mild-mod obesity
Loose skin in a 50yr male with normal weight, not corrected by exercise
Q: Why is it not possible to achieve a flat abdomen with every tummy-tuck surgery?
shape of the abdominal wall depends on the skin tome (laxity), the abdominal muscle tome (tightness) and the volume(amount) of intra abdominal fat.
The initial two problems are correctable by the tummy tuck surgery, not the third-this can be corrected by only loosing total body weight.
When abdominal fat excess is mild-moderate, tummy tuck surgery can be done provided the person accepts some residual bulge. The benefit gained from surgery acts as a motivation to shed total body fat-this will help improve the abdomen shape further, and maintain body shape for a long time!
Q: What are the risks associated with a tummy-tuck surgery?
Worldwide, thousands of successful abdominoplasties are performed each year. When done by a trained Plastic Surgeon, the results are invariably positive. However, as a major surgical procedure, there are general and specific risks related to the procedure.
Post-op infection and blood clots are rare, but can occur. Infections can be treated with antibiotics & drainage, but may prolong hospital stay. Blood clots can be minimized by moving around as soon after the surgery as possible.
Poor healing, especially in smokers, may need an additional surgery.
Q: What evaluation is done in the initial consultation?
This will involve evaluation of your general health, extent of fat deposits in abdomen
(and other areas if any) and condition of the skin tone. Be sure to mention about smoking habits, any medications you may be taking, vitamins or other drugs.
Be sure to discuss your expectations frankly with the surgeon. If for example, your fat deposits are limited to the area below the navel, you may need a less complex procedure called a partial abdominoplasty ( also known as a mini tummy tuck). You may on the other hand, benefit from a partial/total abdominoplasty done along with a liposuction from adjacent areas to give a better body contour. At times, Liposuction alone may be sufficient to give the desired result.
Photographs of the problem area will be taken as part of medical records.
Q: What preparation is required before I go in for the procedure?
Smoking has to be stopped about 4 weeks prior to the procedure. Blood thinning drugs (Aspirin/Dispirin) and Vitamins need to be stopped 2 weeks prior. Fasting is needed at least 6 hours prior to the procedure.
You need to be accompanied by a responsible adult throughout your stay in the hospital.
Some details about the procedure.
Complete abdominoplasty usually takes two to four hours, depending on the extent of work required. Partial abdominoplasty may take an hour or two.
A long incision is made from hipbone to hipbone, just above the pubic area. A second incision is made to free the navel from surrounding tissue. With partial abdominoplasty, the incision is much shorter and the navel may not be moved, although it may be pulled into an unnatural shape as the skin is tightened and stitched.
Next, we will separate the skin from the abdominal wall all the way up to your ribs and lifts a large skin flap to reveal the vertical muscles in your abdomen. These muscles are tightened by pulling them close together and stitching them into their new position. This provides a firmer abdominal wall and narrows the waistline.
The skin flap is then stretched down and the extra skin is removed. A new hole is cut for your navel, which is then stitched in place. Finally, the incisions will be stitched, dressings will be applied, and a temporary tube may be inserted to drain excess fluid from the surgical site.
In partial abdominoplasty, the skin is separated only between the incision line and the navel. This skin flap is stretched down, the excess is removed, and the flap is stitched back into place.
Q: What can I expect immediately after the operation?
You will have a dressing on your lower abdomen that may be supported by an additional belt (Abdominal Binder).
There may be a temporary tube for drainage from the surgical site.
The front of the abdomen will feel slightly sore and numb.
You will be helped to move about as soon as possible after the surgery; this will decrease your risk of blood clots as well
Dressings will be changed at 48-72 hours-a shower can be taken after this.
Hospital stay may vary between 2-4 days.
About 2 weeks of rest at home is usually required after the surgery.
Q: How painful is the procedure?
Pain at time of surgery is nil, as anaesthesia is used. After the surgery, a pre decided combination of intravenous & oral medications ensure that pain is never a problem. Once the patient feels confident with the existing soreness & stiffness after surgery (usually in a day or so), is able to move around indoors, patient is send home with medications.
Q: How is the other Recovery after the surgery?
Rest at home: 2 weeks
Back to work: after 2-3 weeks
Strenuous activity: after 3-4 weeks
Swelling & bruising: (if any) 3-6months
Q: What should the long term outlook be after the procedure?
A successful tummy-tuck procedure restores a pleasant appearance, makes a significant improvement to the person's self confidence. By removing fat that does not reduce with diet control and exercise, the motivation to stay fit and healthy by strict diet & exercise stays for a long time.