Areas of Surgery
Trauma Surgery
Involvement of a Reconstructive (Plastic) Surgeon early in the course of a person with major skin-soft tissue injury has major advantages: early healing of major all wounds permits maximum preservation of Function & best Cosmetic Outcome.
Reducing the duration of treatment means lesser treatment costs and early return to work and meaningful role in society.
Conventionally, the reconstructive surgeon is involved only a few weeks after the injury, when it is obvious that a complex wound will not heal, or when a major functional problem has become obvious.
Case number 1 - Crush injury foot: Early reconstruction by microsurgical gracilis muscle and Skin Grafts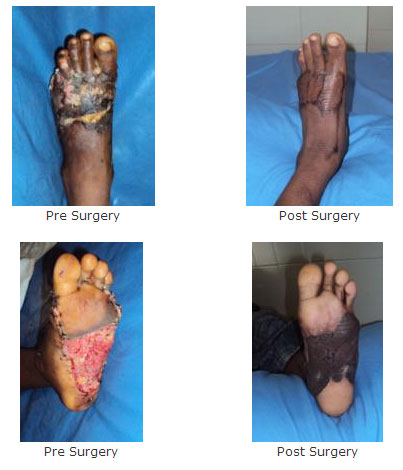 Early reconstruction results prevents bone & joint infection in the foot, ensures maximum activities of the foot are preserved in this 10yr old boy.
Case number 2 - Open injury to the Achilles Tendon due to the common accident and damage by a damaged Lavatory Pan. The overlying skin here is very delicate; unless it heals smoothly, quickly (by direct stitches or by reconstructive flap surgery as in this case) the tendon underneath will dry and get damaged.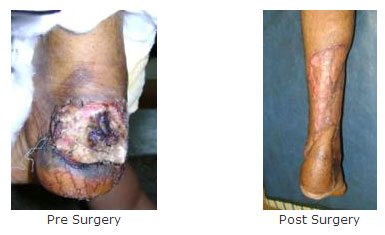 Any delay in appropriate treatment will result in problems in function of this tendon-that has to bear the entire weight of the entire body
Case number 3 - Lacerations of soft tissues of face, if stitched back in place accurately and painstakingly, can give wonderful results.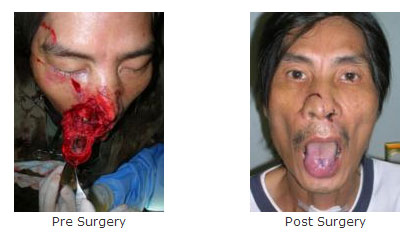 Any compromise in the quality of primary repair leaves deformities that are extremely difficult to correct later.
Case number 4 - severe crush injury of leg with loss of segment of the underlying bone. Conventional procedures cannot help in such a situation. Here we see the wound being covered using a muscle flap by reconstructive surgery technique.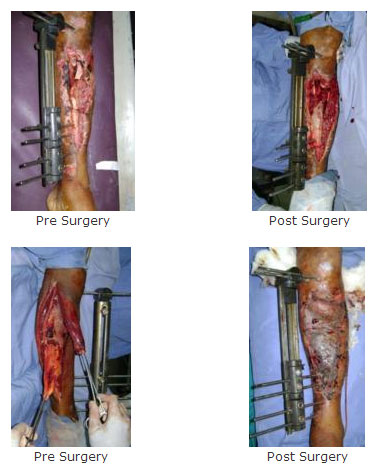 In the absence of reconstructive surgery, the limb will have to be amputed.